PDM provided mobile crane related training to staff from Interserve Defence, one of the world's foremost support services and construction companies. The training was for particular staff from Waterfront Services Gibraltar, which provides specialist support for marine and harbour work and nuclear services in support of the UK MoD's Defence Infrastructure Organisation (DIO).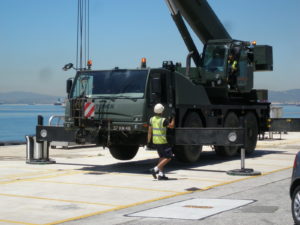 The training was based on the Terex AC 35 mobile crane that was on long-term hire from the UK MoD under the C Vehicle Capability Private Finance Initiative (PFI). The successful outcome of the training allowed three crane operators and three slinger/signalmen to be deemed competent and to receive National Plant Operators' Scheme (NPORS) accreditation.
PDM has been requested by Waterfront Services Gibraltar to provide further training on their own 160T crane and to qualify additional slinger/signalmen.
PDM has provided operator and maintainer training for mobile cranes and other related equipment in UK, Germany, Canada and The Falkland Islands.  Additionally, PDM has also delivered training services in Belize, Kenya, Cyprus and Brazil.